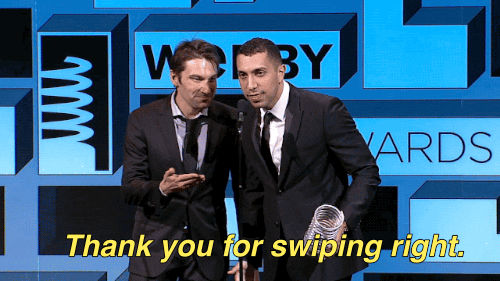 ---
I used to write my friend Nick's Tinder bio and organize his profile pictures for him, even drafting some pick-up lines for him from time to time. For this article, I asked him about why he used to use Tinder. He responded simply, "Just for laughs."
Since then, I've written Tinder bios and pick-up lines for my other friends. I just haven't done so for myself. Granted, I wouldn't swipe right on anyone. I wouldn't even swipe right on myself. I don't want to take anyone at face value, nor do I want people to take me at face value.
I've always found dating apps to be impersonal. The first impression is superficial, simply based off of a series of photos that serve as a highlight reel of our lives and a witty line that makes us seem more interesting. We have the time to carefully craft every word we say, sending screenshots to our friends to come up with the best response to make sure everything goes smoothly. While this process seems perfect on its surface, it lacks the authenticity of a proper relationship.
Today, we as teenagers and young adults spend our lives behind a screen. We seem to all crave human connection so much, however, that we're okay with meeting people through the same screen we use to avoid actual human contact. Talking online has become the first choice for getting into a relationship.
What is a person's intention on Tinder? Is it just to hook up? Or is it wanting to chat up people with no plans of ever meeting them?
---
---
I talked to a lot of high school students about how they feel about hook-up culture, and I received responses from two vastly different ends of the spectrum.
Most people didn't have a problem with hook-up culture; rather, they admitted to how commonplace it has become and how expected hooking up can be at parties. Today's youth is more accepting of and open about sexuality, choosing to look past the social stigmatization surrounding it. This end of the spectrum opposes many traditional ideas that previously surrounded dating—these aren't people who don't believe in romance, but people who aren't afraid to try and fail as they navigate potential partners and find someone to whom they can really commit.
A notable example that came up multiple times in conversation was Monica and Chandler from the hit series Friends. The two were friends for years before they hooked up, which served as a means of filling the physical and emotional void they were both feeling. Friends seems realistic and genuinely reflective of young adults in the '90s. People went on dates (blind dates, even) not knowing much about the other person in the hopes of getting into a real relationship.
After talking to my friends and peers, I realized that people are hooking up with each other because they're sick and tired of waiting around for "the one." Instead, they're taking matters into their hands.
On the other side of the spectrum, I found plenty of people who disapprove of hook-up culture. These are the people who long for a meet-cute.It's important to note that these individuals aren't denying the openness of sexuality; they're self-proclaimed hopeless romantics who don't want something temporary. They seek out long-term relationships right off the bat and often place a heavy emphasis on emotional connections.
---
---
When thinking of meet-cute idealists, Lorelai and Luke from Gilmore Girls come to mind. The duo enjoyed a caring friendship for many years before they acted upon their romantic feelings. Luke was a seemingly tough guy with a sensitive heart, and she was the laid-back girl next door. Their romantic relationship was entirely based off of a firm friendship, which escalated to a committed and loving relationship. People on this end of the spectrum don't want to stop waiting for "the one." They might feel frustrated, but they just don't want to waste time failing just to fail again.
There's no way of determining which end of the spectrum is correct, but it's crucial to be aware that people have the right to choose what they're comfortable with. At the end of the day, we're all looking for companionship in some form.